Section Redo
Returning to the site on Monday, we have more things to work on in Cutting 1. After our site supervisor inspected our section, we discover that we had made glaring mistakes. As such, we had to redo the section on the furnace wall. Redoing the section went quite well, when compared to last time. We finished the section in a much quicker time, made it much more accurate, and pretty. Our process and work was so good that we impressed our site supervisor. Sectioning the wall again took the entire day, but it ended with an excellent section.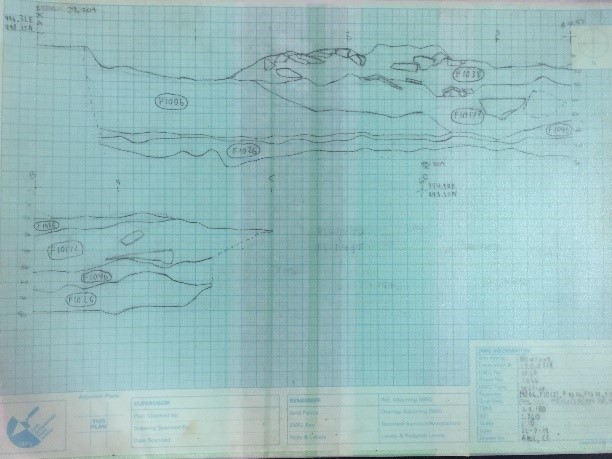 Final Days of Cutting 1
The next day and a half was spent on the final review of the cutting before we closed it. Our first task was to take photos of the features we found on site and record them. Also, we had to determine if the features have an archaeological context or not. The photos were quite easy to do and we finished quickly. Unfortunately, we determined that the features have no archaeological value, but are instead natural abnormalities. We had to made sure that all of the paperwork of Cutting 1 is good to go. This means we had to organize, sort, and check the plans, the many sheets relating to our finds, and the sections. Working with the paperwork was not so bad, however, it is tedious work as there was a lot. Eventually, we finished the paperwork and finally closed Cutting 1. Afterwards, we began preparations for the Open Day.
Open Day Prep.
The Open Day on Friday was a particularly important event where the Carrick interpretation center was officially opened. The interpretation center is the Big Dig renamed and it underwent heavy restoration to transform it into a public space. As such, both us interns and the students cleaned up and prepared both the site and center. Our first task for the remaining half of the day was to remove the plants that have grown on the site. Once done, we cleaned up, brushed up and organized the center exhibits.
Tent building and Open Day
On Thursday, my Cutting 1 buddy and I did many tasks to prepare for Fridays open day. Our tasks were to cover the remains of Cutting 2 with tarp, finish tidying the stone pile, and to set up tents. Our tarp and stone pile tasks were relevantly easy, but the tent setup was not. The problems we mostly encountered included figuring out how to assemble and secure the tents. It was a tough task, but we managed to finish by the end of the day. Open Day was quite relaxing as we did not have any formal tasks to do. While we were doing some tasks, we were mostly free to do anything we wanted during the day. For the most part, I relaxed for the day, saw the shows, exhibit, games and tours that were put on.  We also celebrated the birthday of a staff member, so went well.