Cutting 1 Plans, Pics, and Clean Up
The first day of the week started with the resumption of planning. We only had levels to do as we had finished most of the plan last week. This time, I was able to decide on which levels to do and I decided on 42 levels. The levels were done quickly, and we finished the plan. Next up, we cleaned the site to take photos of the site prior to the beginning of excavations. Cleaning took some time, but we finish in a timely fashion and took the photos. Next, we began to excavate the furnace area down to the 12th century grey clay layer.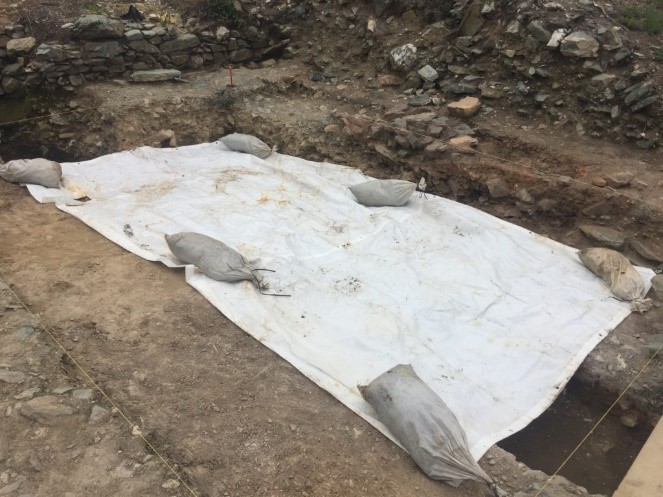 Reaching the Grey
Our excavation was quite slow as we covered a large area. For a few days, we were mostly troweling back on the grey area. I worked on the edge of the furnace where there were a lot of stones. Working at the edge with the many stones is tiring. I had to be incredibly careful with the stones or I would otherwise collapse the furnace wall. However, as the interns and I went towards the northern edge of the cutting, we began to find things. Most of the artifacts we recovered are of animal bone and pottery pieces. The animal bones we found were decently preserved, with large parts of bone intact. Furthermore, we also found a possible stake hole, in the form of a compact charcoal pit. Once we finished with the grey layer, we had to draw another plan before we could excavate it.
Excavating the Orange
The plan was easier to finish as there was much less to do. I traced the old plan into the new one, omitting most of the rocks. As such, I was able to complete the plan relevantly quickly. After the plan, we did levels and I plotted 33 levels. We finish the levels quickly, and we began to excavate towards the orange layer. The grey layer was very compact, so we needed to use mattocks and shovels to excavate. The last two days of the week were quite warm, so we got tired and hot. During the last day of the week, we agreed to take short breaks every ten minutes, so that we would not be overworked. As such, we managed to work efficiently and excavated half the site before the day ended. As for finds, the only ones we uncovered was another stake hole and some iron slag.