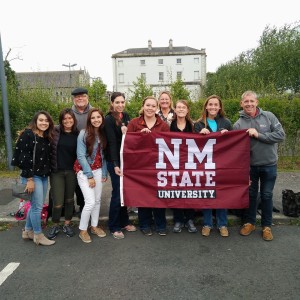 In 2016, Dr Laura White of New Mexico State University approached us to design a faculty-led program based on equine management and operations.
Ireland's equine heritage made it an obvious destination for this program.
Ireland is a leader in thoroughbred racing and breeding, and the industry is worth hundreds of millions in economic activity. We're responsible for about 40% of the EU's thoroughbred output.
We designed a program that included visits to stud farms, equine-related businesses, and veterinary clinics, while also allowing the students to go horse-riding and experience two famed Irish race meets.
We combined the tour with homestay accommodation for added local and cultural immersion.
"I can't say enough great things about Learn International. The staff were great to work with from the beginning. They created an incredible proposal of an equine study abroad trip and were open to a few suggestions I had that would personalize the trip for my group.

In a short time, the finalized schedule included all the stops and experiences we had hoped for. Chris and Cara were both available to help recruit students, both in country and via skype. Our entire trip ran extremely smoothly and as the faculty lead, I didn't have to worry about anything!

The staff were knowledgeable about when and where we needed to be and who we should see. I was able to sit back, relax and enjoy the program! I was in constant contact with LI staff while in country and they were completely amenable to adjust the program as necessary to accommodate our needs.

Learn International completely exceeded my expectations in every area of our experience – the quality of the businesses we learned from, the knowledgeable LI staff, the great accommodations, our fabulous coach travel, and the incredible cultural experiences were top notch in every way.

Learn International is extremely knowledgeable and exceptionally capable of preparing a global experience tailored for your program."

– Dr Laura White
Excursions and stops on the program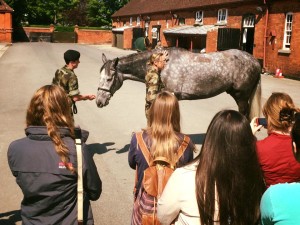 We arranged the tour so students could meet breeders, jockeys, trainers and veterinarians involved in the country's equine industry.
They visited Irish Draught horses, show jumpers, and nutritional innovation firm Alltech.
Just like in Kentucky, Irish stud farms cluster in areas with limestone-rich soil, as grazing on this land leads to strong equine bones. We brought students on a tour of the National Stud in Kildare, where they learned about the investment in the industry and the level of tracking, grooming, and nutrition involved in keeping thoroughbreds.
The Cliffs of Moher and the Ring of Kerry are considered a must-see for any visitors to Ireland, so we ensured the students got both sets of jaw-dropping views and photo opportunities as part of their tour.
Feedback from students 
"I learned a lot about the horse industry in Europe, which I had no prior knowledge of before this trip. I think the things I learned about the equine industry here can help me when working and making connections when I go home and work." – Alexa, Animal Science Major
"I loved getting to experience my two favorite things in life together; horses and travel. I will definitely look for something like this again" – Liliana, Animal Science Major
"I got to learn more about the horse industry in general, such as learning about passports and how they work, and the different types of racing and eventing. Learning internationally is a great experience to learn about yourself, the culture, and others." – Dustin, Animal Science Major
"I had a huge insight in to the equine world and it really opened my eyes to a broader understanding. The trip allowed me to be more comfortable in a group environment and helped me to come out of my shell." – Jonathan, Animal Science Major
"I learned above and beyond what I was expecting to and had such a great time meeting the Irish people and learning more about them and their lifestyle." – Katie, Animal Science Major
"Not only is this program great for gaining knowledge of other aspects of the equine industry, but you bond with a group of other students, as well as make valuable contacts in the industry for your future." – Mariama, Animal Science Major
Get started
If you're interested in a faculty-led program customized to you and your students, please get in touch.
Email: [email protected]
Ireland phone:+353.(0)45.939.773