Traveling to different countries was always on my list of things to do while studying abroad in Europe. Since we had a 6-day break between the two parts of our program, we decided to visit Spain for the break. During our break we only stayed for 5 days (we had a physics exam the day we got off the break) and went to 3 different cities in Spain: Barcelona, Valencia, and Madrid.  
The first part of vacationing is planning the trip, which can be very tedious and confusing. I remember feeling so lost in the entire process, but I soon learned. One thing I would recommend is to try to travel with a smaller group. It's easier to agree upon what to do for the break. There are some pros to travelling with a large group, but I know myself and I know I wouldn't have enjoyed myself to the fullest if I were in a larger group. Also, if you are interested in flying out of the country use platforms like Google Flights and Booking.com to find inexpensive flights. 
Anyways, after we found the flights and bought our trains, we just had to wait for our departure date to come. During this time, make sure to research different things you can do in your travel destination. I found a bunch of travel blogs with different things to do in each city we were visiting. I would recommend having a list of sights in advance so you can account for days where stores and other sights may be closed.  The day before our flight we started to pack. Make sure to pack clothes that can be used multiple times since it's ideal to pack light for one of these trips. Also make sure to bring plastic flip flops if you're staying a hostel since most hostels have communal showers. 
Once the day came, I flew out of Brussels airport and landed in beautiful Barcelona. Since the airport is a little far from the city center, we had to take a bus into the city center, which was very clear, so that went smoothly. We then took a hostel near the beach, so we took the metro. The metros in Barcelona are amazing. If you've read my previous blogs, you can tell I'm an avid fan of public transport. The metros were well organized and since me and my friend were there for only two days, we bought a 48-hour metro pass, and it was a great investment. I would recommend taking the metro in Barcelona since many of their landmarks are a relatively long walk. Plus, Barcelona is very hilly so make sure to wear comfortable shoes.
We spread our sight seeing over the span of two days. Some of the landmarks we visited were La Sagrada Familia, Park Güell, the Güell Houses, the Picasso Museum,  and el Arco de Triomphe. We want to go see an outdoor market on Sunday, however, many countries close everything on Sundays and Spain is one of them.  Even though we couldn't go the market we still took advantage of the day. We spent some time on the beach on our second day in Barcelona and went to eat tapas—a traditional Spanish style of dinner where all the plates are shared—at a restaurant near the beach  As a born Floridian I did miss the beaches and I appreciated being able to swim in the ocean again.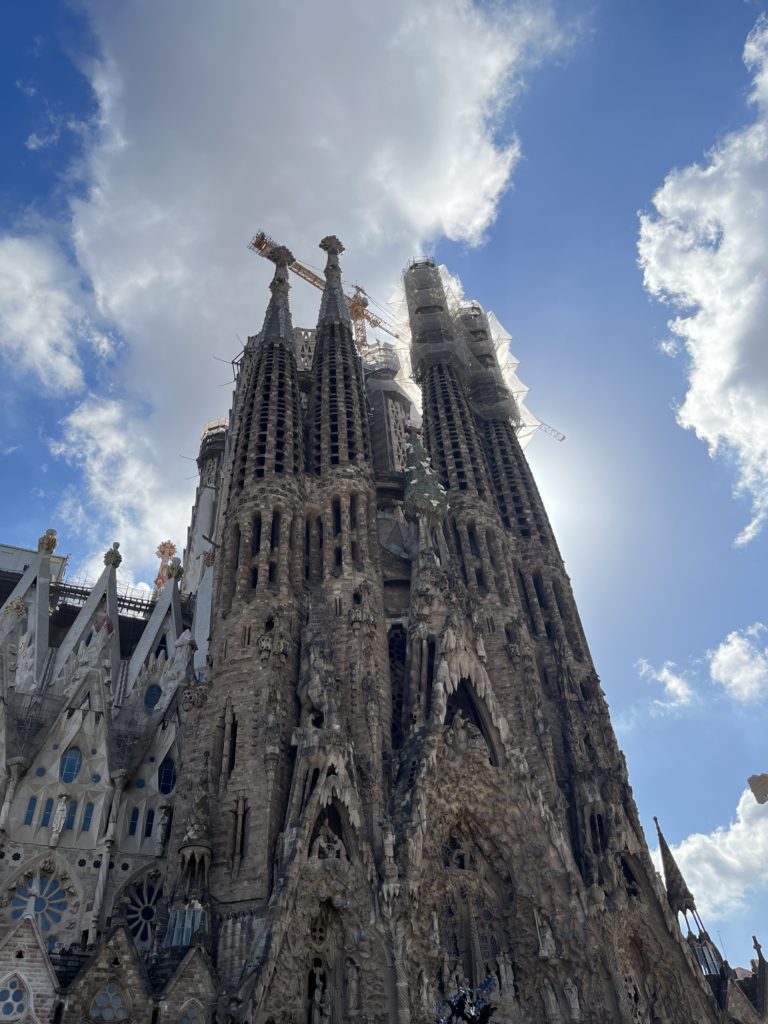 Day 3: Visiting Valencia & Landing in Madrid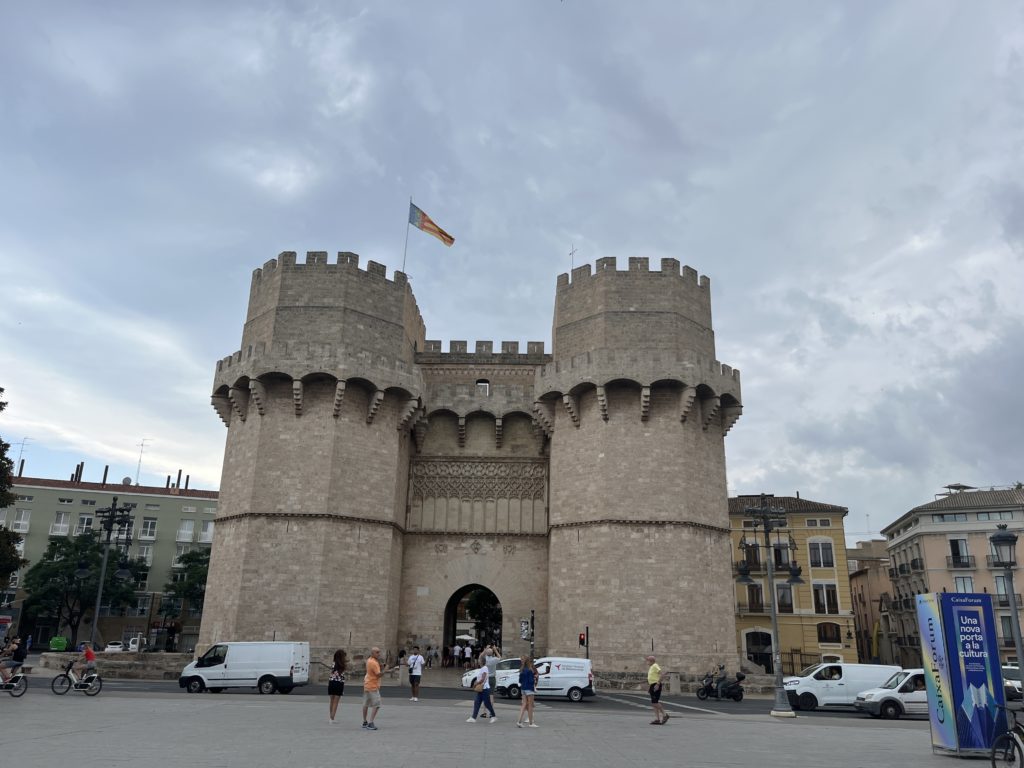 The next day me and my friend took a train to Valencia to visit her friend that was also studying abroad. We were only in Valencia for about 4 hours, but I wished we could've been there for the entire day. Valencia was a very pretty city and had lots to do an explore. I even found a Colombian restaurant! I hadn't planned much for Valencia, but I thought it was interesting to see how the architecture in Valencia differed so much from Barcelona. If I were to go back to Spain I would definitely want to explore more of Valencia.  At around 5pm we took another train to Madrid.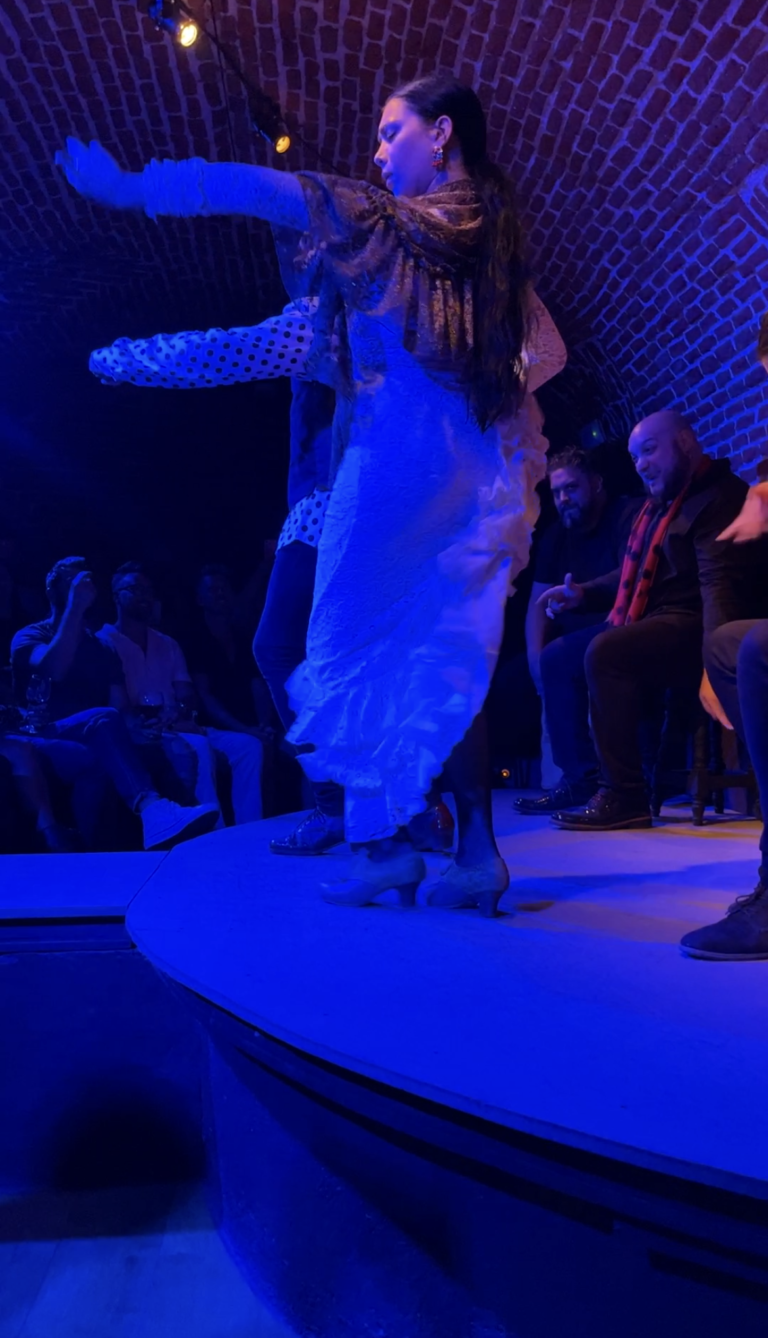 When we got to Madrid, we were a little confused by the metro system, but we ended up figuring it out. From my experiences in Barcelona and Madrid, I would say I preferred Barcelona's metro system. Anyways, we made it to our hostel, which was located very close to the city center. Then we relaxed for a while since we had a long day of traveling before heading to go see a local flamenco show.  
If you are in Madrid, I would highly recommend going to watch a flamenco show. This form of dance is such a staple in Spain and was one of my favorite parts of visiting Spain. In the show we went to, the host gave us a brief history of flamenco and there were several different styles of flamenco shown. Also, we were in a very intimate setting, which made it even better since we didn't have to keep moving our heads around in order to see the show clearly.   
Day 4: Sightseeing in Madrid
For our second day in Madrid, I created our own sightseeing map for the day. I really enjoyed planning the tour because I could personalize the sights to fit our own interests. For example, my friend loves to visit different bookstores, so I made sure to include a local bookstore in a route for her. Also, Google maps has a feature where you can map out your route and it gives you the estimated time for your plan. I'll include a picture of the route I created in case you are interested in visiting Madrid and hitting some of the big sights. Also I didn't feature any of the museums just because we didn't have time to see them, but if you are student, make sure to bring your student ID in order to get discounts for the entry tickets. 
Of course, the walk did take longer than estimated since we stopped at different locations, but I really enjoyed how close everything was. I would say that Madrid is a much more walkable city than Barcelona since the metros aren't necessary to get to different parts of the city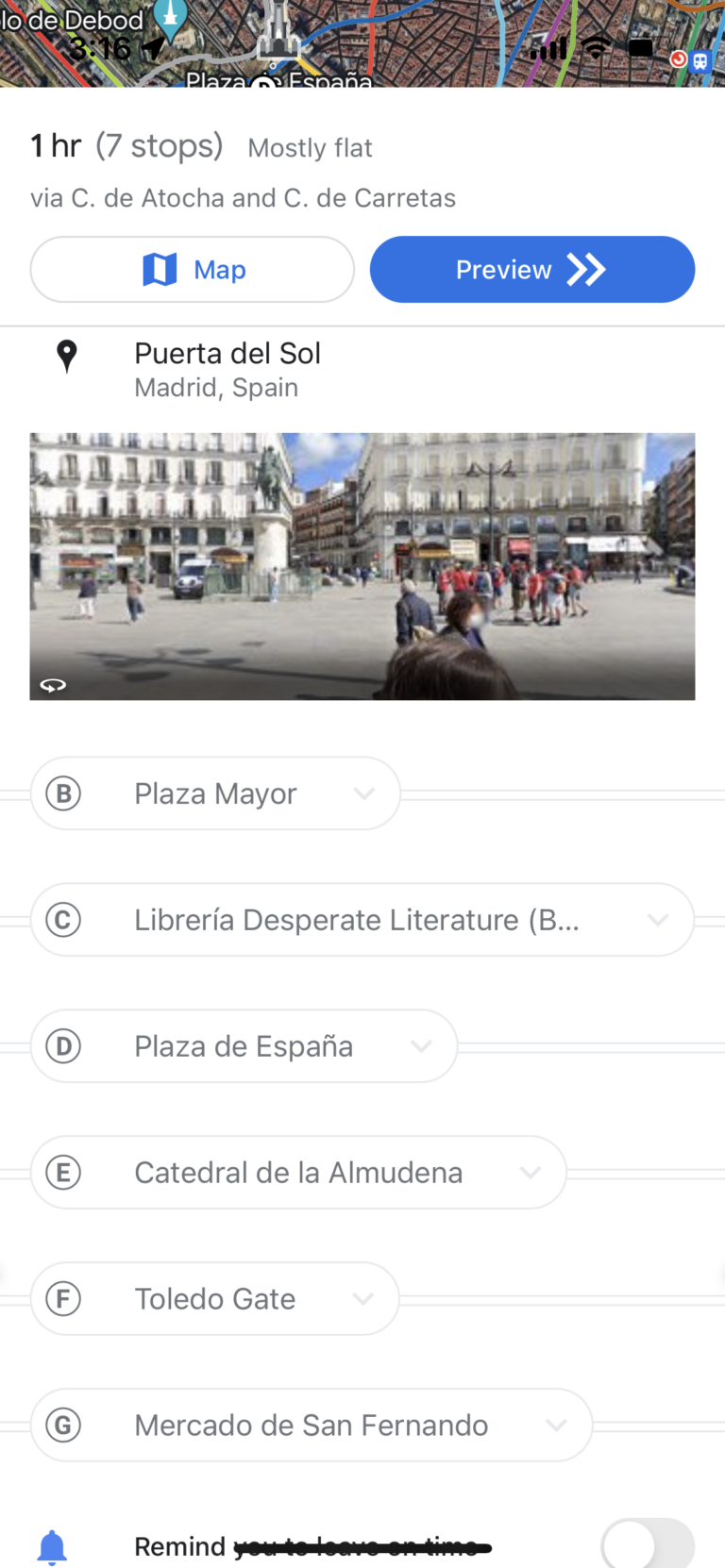 After our tour we went back to the hostel and took a well-deserved nap. Our plan for later was to get dinner, but conveniently all the streets were closed. We ended up finding a fast-food restaurant and ate some churros as well. It wasn't until we went back to the hostel that we found out that there was a NATO conference being held in Madrid. Then for the rest of the night we stayed in in order to prepare for our departure back to France.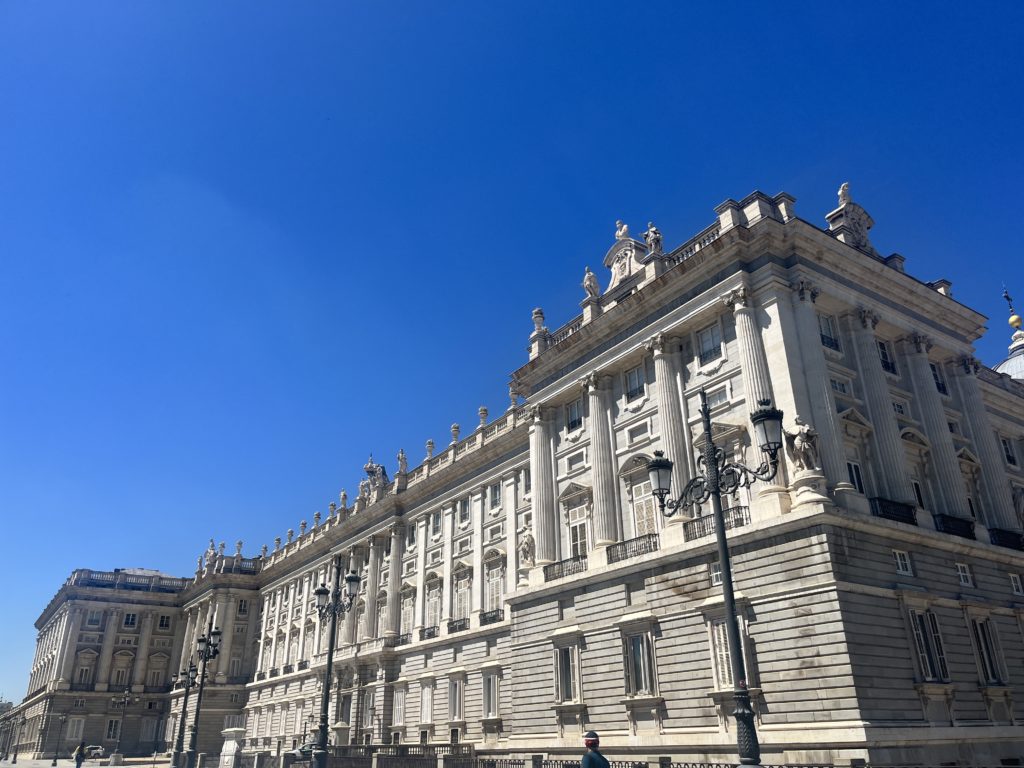 Days 5 & 6: Heading Back to Lille
I would love to write about how our plane ride went smoothly and we arrived back in Lille at the time we organized before, but things happened, and nothing really went as planned for us. When we reached Madrid Airport our flight was delayed for about an hour, which messed up our train tickets from Brussels to Lille. When we landed back in Brussels me, my friend and I walked extremely briskly towards the exit in order to try to catch our original train. When we finally made it to the main station, we only had one minute left, so we started running and we were so close all we had to do was get up the escalator. So, we ran up the escalator that seemed to be stopped, however it started to move, and my friend fell on the escalator. After that she had a hole in her leg from the escalator and we had to go to the hospital (we even got to ride in a European ambulance). We ended up spending the night since we missed the last train and then took a 7 am train the next morning. 
Final Thoughts on my Trip
Although it wasn't the most ideal situation to happen, my friend is okay now. Honestly, even though we had that mishap in the Brussels train station, our trip to Spain was so fun. We just know now that if you have the choice to run up the escalator or miss your train, but be able to take a later train, just miss your train.