The sector might be small by London standards but it is still thriving with hundreds of boutique and medium-sized agencies and several consultancy giants such as Weber Shandwick.
The work offers juicy creative challenges, usually requiring a localised identity and content relatable to discerning Scottish audiences. The result can include harnessing the Scottish sense of humour for product marketing (see Irn Bru brand for an iconic example) or bringing a fresh twist to the communications needs of a public sector body (see the award-winning organ donor campaign We Need Everybody).

Many agencies split their client portfolio between small businesses, household-name brands, and contracts with the Scottish Government and its funded agencies. More than 3,100 people work in PR in Scotland. That number multiplies when it includes areas of advertising, marketing and digital strategy are closely interlinked with PR.

Event marketing is its own thriving sector. Edinburgh in particular has 12 festivals a year covering everything from jazz and science to books, comedy, storytelling and film. The city is also home to the biggest arts festival in the world: The Edinburgh Fringe. Only the World Cup and the Olympics sell more tickets.

Scotland's PR, communications and event marketing sector is an exciting and creative place to cut your teeth in this discipline, and you're guaranteed to have very interesting work to add to your portfolio when you get home.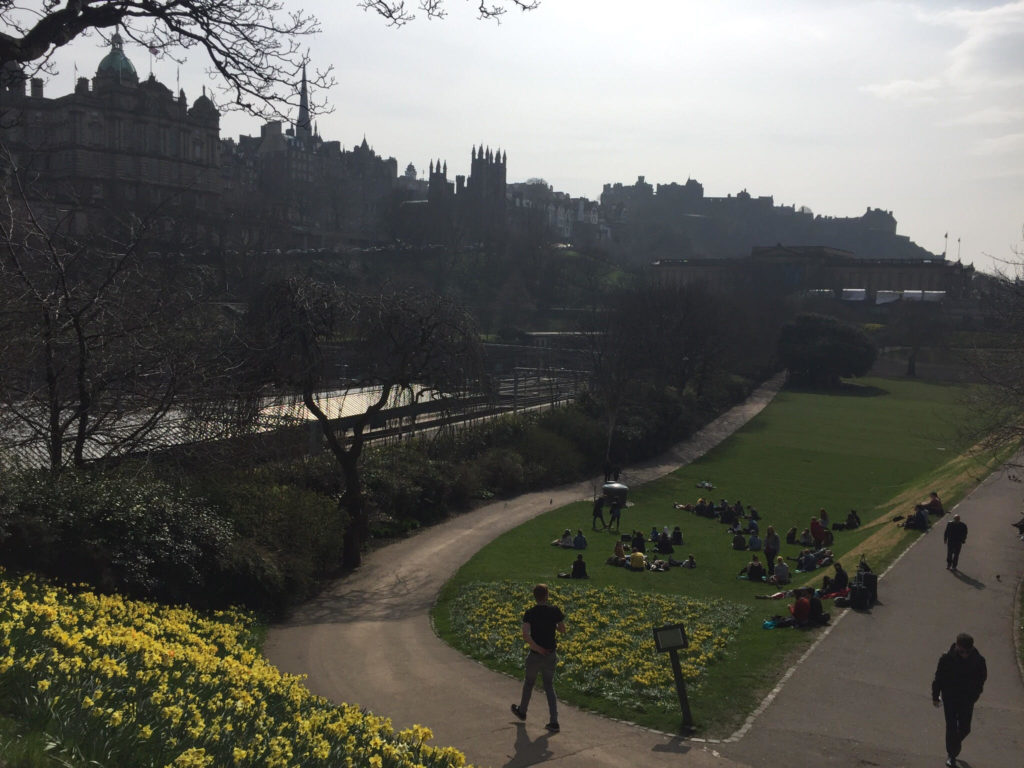 What you can expect from a Communications Internship
When the time comes to interview for graduate jobs, you'll be asked what brands, audiences, and markets you have worked on. Employers want to see real-world experience and results in your resumé and an international internship will catch their attention.
To make yourself more attractive to employers, use your internship to improve your copywriting skills and prove your attention to detail. The most sought-after experience when hiring for junior roles is social media and influencer marketing, so keep that in mind when you offer to help an account manager.
Even in the same agency, the work can range widely. One day you could be embedded with the public affairs team, assisting with research or focus groups that will inform a client's strategy on political and policy matters. Alternatively you could be working on the consumer side of the house, helping develop strategic lists of influencers for a digital product launch or helping put together press packs for visiting journalists. You'll attend meetings and participate in brainstorm sessions, getting valuable exposure to senior creatives and management.
Whether in-house or agency side, your tasks could include media monitoring, conducting research and analysis, media outreach, content creation and performing digital searches.
There is always something on in Edinburgh so you're just as likely to be placed with an events management company or a large annual festival. This would involve on-the-ground work and logistics, and possibly digital PR, marketing and social media in advance of the event.
Potential placements

Large communications consultancy
Boutique PR agency
Event management company
In-house marketing department
PR department of a public sector body
"I coordinated an major event within the organization and developed my leadership skills. I also designed a logo with various software programs, and got to practice my public speaking by going on the radio to talk.

A Advice to future interns; "Patience and remembering that it is important to produce work that I am proud of, but at the end of the day I have to produce work that my supervisor/and or clients are happy with." It was an amazing experience to be able to gain internship experience and be able to travel around Ireland over the weekends, I really would recommend this program. I think that it is a great way to gain/improve personal and professional skills through the duration of your time here that you thought you would be able to do or have.
Lauren
University of New Mexico, USA - International Studies and Environmental Science Intern
"Coming to the program, you can definitely learn something new in your career field. With the great opportunity to meet a group of new friendly people."
Sophie
University of North Carolina at Chapel Hill, USA - Computer Science Intern - 2016
Edinburgh is a vibrant, perfectly-sized and simply beautiful city. With a huge student population and unparalleled historical heritage, it manages to be both young and timeless at the same time.



The Old Town is dominated by the 800-year old Edinburgh Castle, looming over the city like a set piece from Game of Thrones that they never took down. Even if you had no interest in architecture before you get here, you will spend the months walking around marvelling at your surroundings like you're part of an Oscar-winning set design. Look out for Ancient Greek influences in New Town – Edinburgh was once known as the 'Athens of the North'.



Edinburgh is small by North American standards. Just a population of just 500,000 people, getting around is easy and you can walk almost anywhere. It is also one of the safest cities in the UK with a low crime rate, and was recently voted the third most welcoming city in the world by readers of Conde Nast Traveller.
Edinburgh punches above its weight in cultural and artistic offerings. It is home to world-class museums, galleries and some of the biggest festivals in the world. Visitors come year-round in their millions. In 2017, Edinburgh Castle welcomed two million visitors in just twelve months.



The summer is an electrifying time to be in the city as it becomes the centre of the Arts universe when the International Festival and legendary Edinburgh Fringe take over. There's a city-wide carnival atmosphere of non-stop celebration and artistic exploration.



In winter, you will not find a more atmospheric place to wander cobbled streets and winding laneways and write a medieval horror screenplay. The famous Edinburgh Christmas Market will keep you busy and warm with shopping, rides, mazes, and ice skating.



Year-round, this is a city designated by UNESCO as a "City of Literature." There are 12 festivals a year celebrating everything from jazz and science to books, comedy, storytelling and of course film.



The international airport and centrally located railway station mean you're well connected for a weekend away in the UK or any nearby European city.