Today's adventures were a a beef and sheep farm and an organic farm. The first visit was very interesting, at home our beef cattle are in feedlots and normally aren't bulls, but the farmer here was running his bulls on all grass. He explained to us how his farm operates and what his employees are in charge of. The farm was in a beautiful area, or so we were told. The rain and clouds were so heavy we couldn't see the beautiful views he kept mentioning! But we did get a lot of information from the farmer about the beef and the sheep side of the farm. 
The organic farm was similar to the other dairies we have already seen, but the difference is the regulations that they must meet. It seems much harder to keep an organic farm going based on the medicines that we were told they couldn't use. They showed us how the milk was pasteurized and explained what each part did what to the milk. That was pretty interesting since I had never given much thought to that process. And I can't forget Riley, the sweetest little terrier!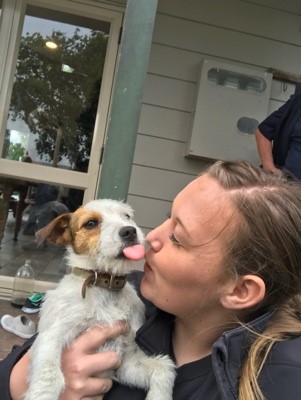 We have now been here for a week, it has gone by pretty fast but I'm excited for this next week. Our adventure today looked like it was going to stay warm and plenty of sunshine, but that was so wrong! Sadly by the time we made it to Cambridge the rain was coming down pretty hard. This made going to the farmer's market a little difficult, but we made it happen and I got to have an amazing fry bread bacon burger. After lunch we went to the stud farm where we learn about how their breeding season operates and all the different jobs that go into making that successful. Today we were able to make it back to Hamilton in time to check out a couple of the souvenir shops.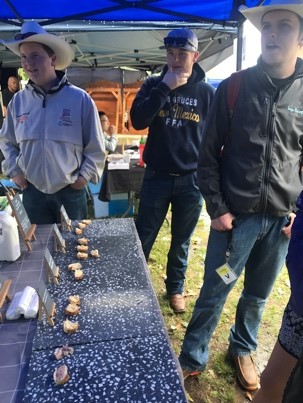 We were traveling to a New Zealand university, a total of 7 hour bus ride. The views we had throughout the country were so beautiful. There were mountains, deserts, lakes, and volcanoes. There was one volcano that was covered in snow, it was one of the most beautiful things ever. It was such a great campus, it was very clean and pretty. I am very excited to take a tour and learn more about their education programs tomorrow.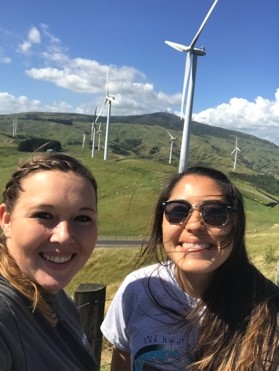 It is an incredible school, we were able to go see a dairy, deer, and sheep farm that are all used for research purposes. We then got to talk to some of the faculty members of the vet school and learned a lot about their program. I was so surprised when they said that students take 4 major sciences the first semester, normally right out of high school, and those grades and their interviews are the deciding factors on who goes on to start the vet school part which is only 5 years total, including that first semester.  We also got to get right up next to some wind turbines, it's interesting to see them all over the world.
–Cheyenne Eldridge, NMSU