I am from Seattle, Washington, and recently graduated from UCLA with a Bachelor's Degree in History. I spent last January at a field school with the Irish Archeology Field School in Trim, County Meath and have decided to come back to Ireland for about 8 weeks to intern with the same company (IAFS). This year, we are beginning excavations at a new site in Wexford.
This site is important because it was one of the first stops for the Anglo-Normans when they came to Ireland. The site, a ringwork, was originally constructed and settled in 1169, with the stone fortification built at some point within the next 30 years or so. The site was occupied off and on for the next few hundred years, and was supposedly deconstructed, as most Irish sites are, to build new buildings in the area. It is possible the stone from the ringwork was used to construct the replica round tower (pictured below), built as a tribute to those who fought in the Crimean War, in the 1850's.
Our site is located within the Irish National Heritage Park in Wexford. We have a great partnership with them and could not complete this excavation without their approval, assistance, and enthusiasm.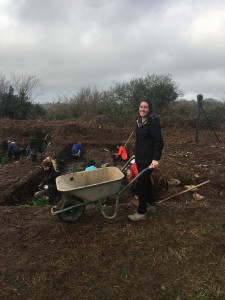 -Madeleine Harris, U.S.A