Making Plans and Sticking With Them
An important part of working in the real world is making plans, whether that be for work or for personal reasons. Making a plan and sticking to it is a skill not many people have because it requires self discipline and motivation. You can make as many plans as you want but if you can't stick to those plans then you are just wasting time. I am learning how hard it is to stick with plans when things start to get hard, it is so much easier to get rid of a plan you have set instead of working through it when it starts to get bumpy. Thankfully, I am learning how to do this. If you say you are going to do something, do your best to stay true to that. It will help you not only in the workplace but also in life in general.
Follow Instructions Before Eating
This past Saturday I finally took opportunity on doing absolutely nothing. It is nice to explore and go do things you won't be able to once you get back home but sometimes you have to take a day to just enjoy nothing. My host family had shopping and dinner plans for Saturday so I had the house to myself which meant it would be a day filled with movies and lasagna that my host mom made for me. My mom has always told me that I hear what I want to hear and that was pretty much proven on Saturday. 
Before my host family left Saturday morning my host mom told me "The lasagna is ready to heat, just put it in the oven at 180 degrees for 40 minutes." Me, being a food-monger, only heard, "The lasagna is ready to eat" and that's exactly what I did. At around 5 o'clock I decided it was time. As I opened up the lasagna that's been sitting on the stove covered for a few hours noticed that it looked different than usual. But I was not going to question it. When my host family came home they noticed that a part of the lasagna was eaten. They asked me how it was and I said it was great. Then they asked if I had cooked it in the oven, with a blank and confused look on my face I said "It wasn't cooked?" We cooked it and I felt like our favorite lasagna eating orange cat after 4 more plates.
The next morning I had not been killed by raw lasagna so that was a good thing, if I died from raw lasagna my parents would have killed me. I celebrated this accomplishment by eating fry.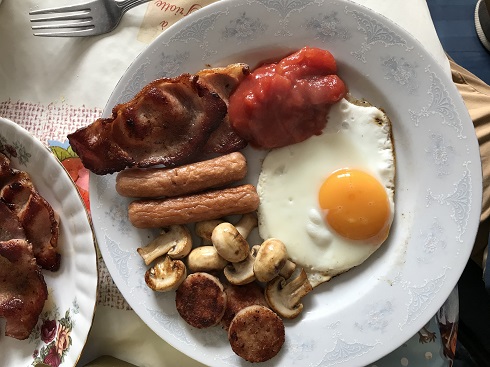 On Sunday we picked up the other intern here in Naas and all went to the Japanese Garden. It was nice seeing the difference in architecture and the many flowers they had available to see. When you first walk in there is a split in the path, to the left you have the Path of Life and to the right you have the Easy Path. I can say the Path of Life definitely had its steep steps and a rock path that you would end up in water if you took a wrong step.
Towards the end of the gardens, there was a huge zen garden with a very calm pattern in the sand. You would have wanted to meditate but it was near impossible with everyone ooing and awing. According to a sign we should meditate 20 minutes a day and if you are too busy to do that you should meditate for 1 hour a day instead.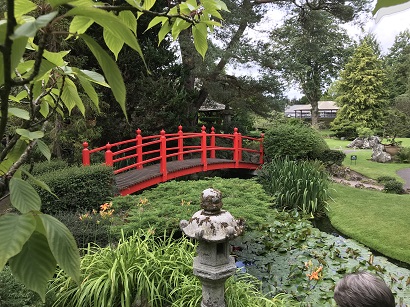 Attached to the Japanese Gardens was the Irish National Stud. Interestingly enough it wasn't a really handsome man that people could go see. It was an area that held all the race horses who are worth more money than I will ever make in my life. Don't get me wrong, these horses must be handsome to female horses. One of the most popular horses there was Invincible Spirit and he had over 1000 foals. Some days he would have 5 partners throughout the course of 24 hours. At the moment if you wanted to breed your horse with Invincible Spirit you would have to pay €120,000. 
We also got to go to a petting zoo. There were piglets, a cow, a sheep, a goat, and a rooster who probably had a rough day because he came at me ready to fight. Flapping his wings and yelling in rooster, I can honestly say I was not prepared. After almost throwing hands with a rooster I could tell it was time for lunch.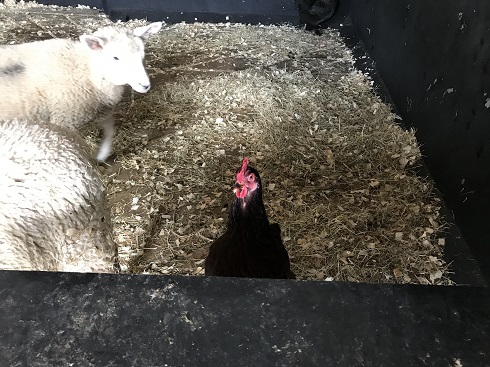 At the end of the day we ate dinner and shared stories outside. The weather was kind to us so we made sure to take advantage of it. Before retiring inside we had individual glasses of Trifle because dessert is life at this point. It was a perfect way to begin the week, full of laughs and sugar.
Ended the week with eating raw lasagna, almost fighting a rooster, and getting that sweet trifle that has never done me wrong.