"And into the forest I go, to lose my mind and find my soul."
John Muir
One of the many pleasant conceits of Dublin is that one is always a stone's throw away from her nature. Lush evergreen stretches, rolling hills, wise-old trees gently swaying – unspoiled by our touch. It's romantic.
I think it's a sign of cultural maturity that part of an urban sprawl is allocated for nature of some form. The significance of this arranged dichotomy between nature and civilization is entirely up to your interpretation, but here's mine.
That our time is fleeting – nature is beautiful but she is also unforgiving. Red of tooth and claw, as they say. The impermanence of any given plant or animal as they roll through perpetual chains of progeny. Fresh in this perspective, one may cast this outlook on oneself – think of the many hundreds of thousands of people whose lineage led to you, person reading this.
They each had their own lives, probably quite similar to your own in many respects. They had their own struggles and conflicts to overcome. Their own moments of love and heartbreak. In moments of self-reflection, it's very likely they too pondered their situatedness in this chain of existence. Perhaps they wondered what their descendants would imagine about them? Who's to say?
These are intense questions to grapple with, made perhaps more repressive if you are in search of a resolution to these questions, when no such thing exists. It's up to you.
The one resolution that helps me sit at ease with this outlook is the following: consider the bigger picture. Look at the trees, the plants, the squirrels, the birds not for themselves but as part of a larger machine – the ecosystem that is flourishing before you. It's an interconnected whole that emerged through the collaboration of many smaller subsystems. Recognize that you, like these smaller elements you are focusing on, are characters in a larger story – perhaps one we cannot understand fully but is being told nonetheless. Armed with this perspective, you are not insignificant or alone, you are an invaluable participant in an act larger than yourself.
This is, of course, just how I interpreted the scenery whilst sipping on a Guinness in Phoenix Park last week.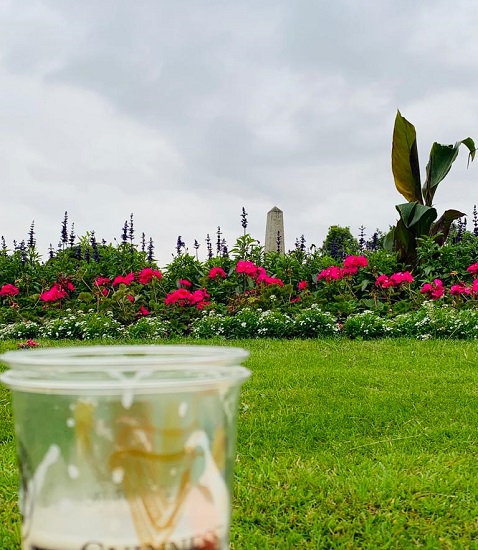 Phoenix Park and the Wellington Monument