At home, I rarely, if ever, use the railways for transport. One's chosen mode of transport in South Africa appears to be lamentably aligned with other inherited racial and socioeconomic stratifications in our society. Buses and taxis, in particular, are informally hegemonized by the previous-disenfranchised majority whilst travelling by car is still very much a privilege afforded to the elite.
Travelling by the Luas tram to work in Dublin is but one example of many unfamiliar traditions that particularize one's own cultural roots.
It's hard to know how to feel about this, partly because one feels a loss of agency when recognizing that many of your own customs or habits are in some way preordained or, the inevitable consequence of being particularly situated in society.
Another example is in the grocery stores, wherein the tellers are White. I wonder, whether this has had any subtle effect, unbeknownst to me, on the way I relate to the teller. When the person scanning your groceries – in some sense an insight into your personal habits or preferences – is of distant social standing to you, as they are at home, it is perhaps more disarming. After all, what shared context is there for them to judge you and your choices?
How deep could it really be, this simple interaction? I suppose the norm is indifference, one has no need to attend to the judgements of the teller, or the people behind you in the queue. But when you're a fish out of water in another country, even the most mundane of errands becomes an opportunity for culture shock.
But in her especially forgiving way, Dublin softens the impact of these shocks – by seizing your focus on such sights for sore eyes: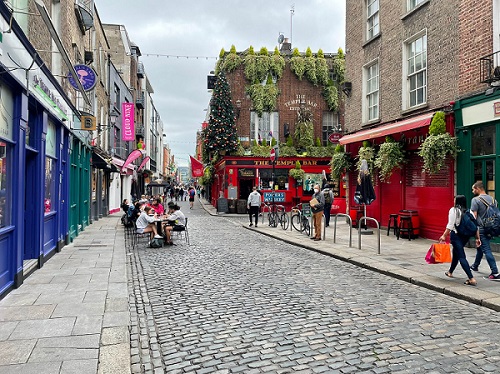 The infamous cobbled pedestrian streets of Temple Bar
The still calm of night. A view from a dorm window at my student residence.
Overlooking the still waters of the River Liffey under a clear-ish sky