For the past 3 days I have been hiking along the Wicklow Way. This is one of the longest and most well-kept trails in all of Ireland; connecting southern Dublin City to Wexford County through the Wicklow Mountain Range. Full disclosure: I had originally planned to hike the full 6 days of the trail; but had to cut my time short. I am an experienced hiker, but in a stroke of hubris assumed that my oversized boots would be just fine for the long-distance trek. The resulting blisters beg to differ.
Anyways, I am fine, and have had an amazing three days with some of the finest scenery in Ireland. Below I have recounted my days on the trail to give you a sense of what I experienced on the Wicklow Way.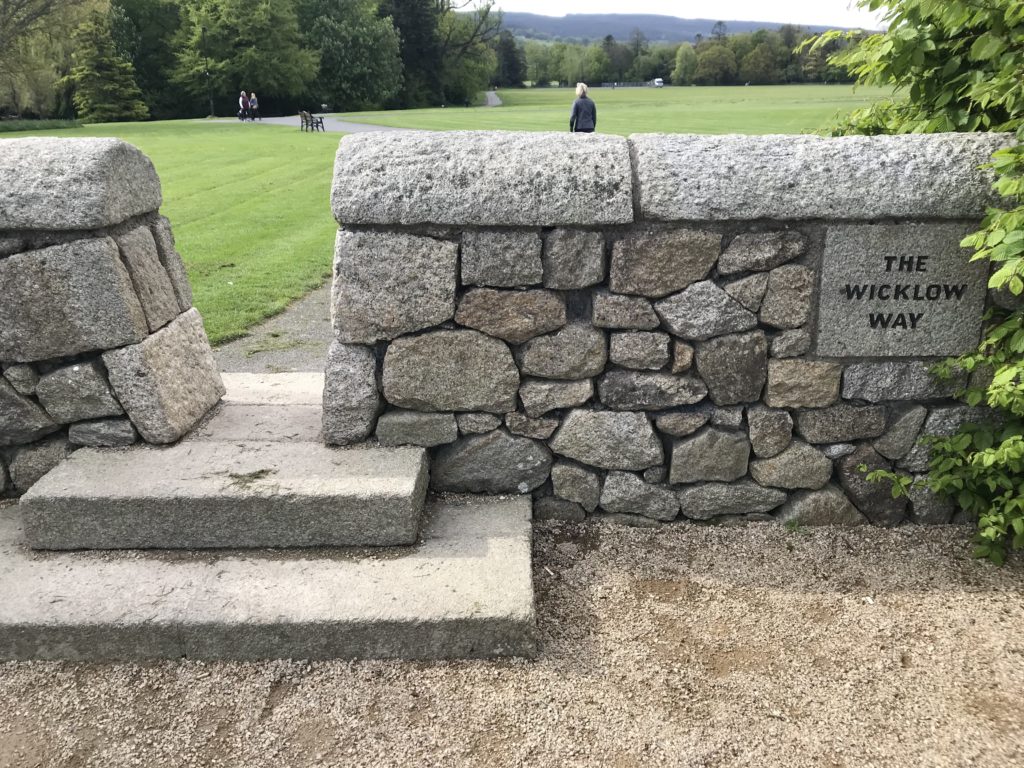 Three hours, two busses, and a short walk brought me to Marlay Park in South Dublin City and the start of the Wicklow Way trail. One of my first impressions was of just how well marked this trail is: one would have to try pretty hard to get lost along the way. The trail began by heading south and up into the foothills of the Wicklow Mountains. The quick gain in elevation was a baptism by fire as my legs and shoulders became accustomed to the weight of my pack.
Upon my first summit I looked back toward Dublin and was struck by two things. First, I had timed my trip perfectly. The furze bushes that covered the hillsides were an explosion of bright yellow flowers. Second, I realized how easy it is to forget that Dublin is a port city. While I have never stood in the city and at the water simultaneously; the Irish Sea is right there! Certainly, I will have to find a beach here before I am through.
I walked for around 7 hours total this day and was very glad to come to my B & B by the end. I had dinner at a local pub with a few other solitary travelers, took and exceedingly long shower, and got to sleep.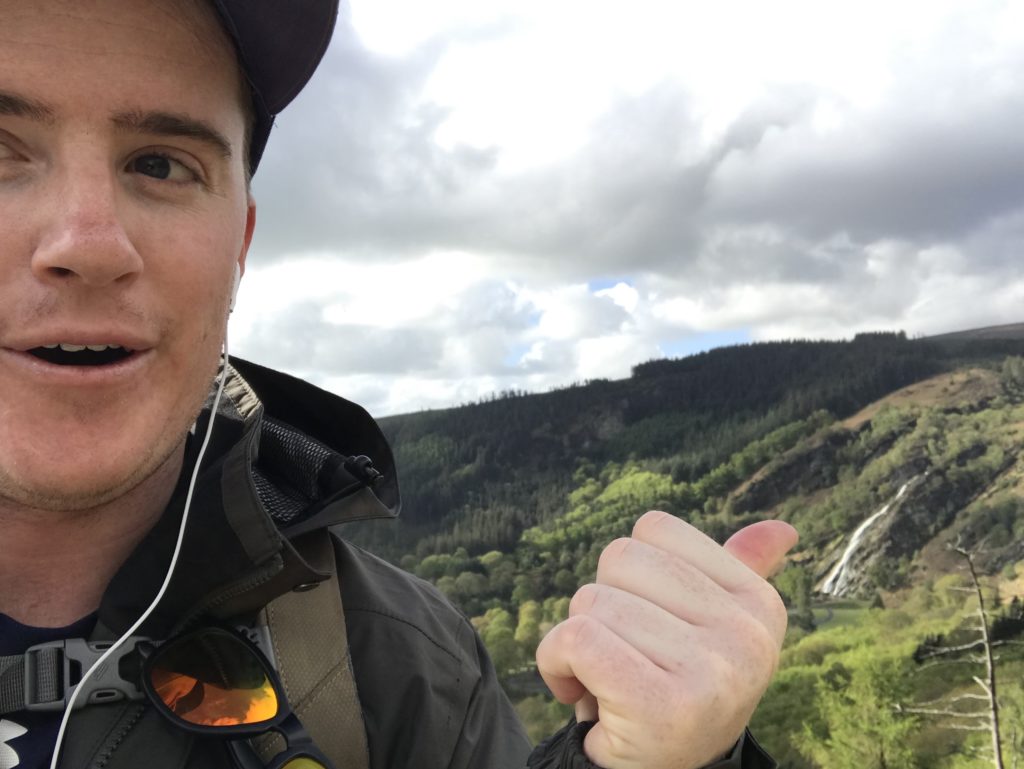 Day two took me further south from Eniskerry to Lough Dan. The highlight along the way was definitely the Powerscourt Deer Park. Much of this region was once a part of the incredibly large and lavish Powerscourt Estate. The Deer Park, then, is a large wooded valley that would be stocked with deer and other animals for hunting. It is now no more than a tourist attraction and absolute sight to behold. The valley culminates in a high, thin waterfall that looked incredible in the morning light.
The trail continued up and across the tops of highly exposed mountaintops. The wind was unreal, but the views made it worthwhile. After about 6.5 hours I finally reached by next resting point and was able to put my feet up next to the fire with a cup of tea.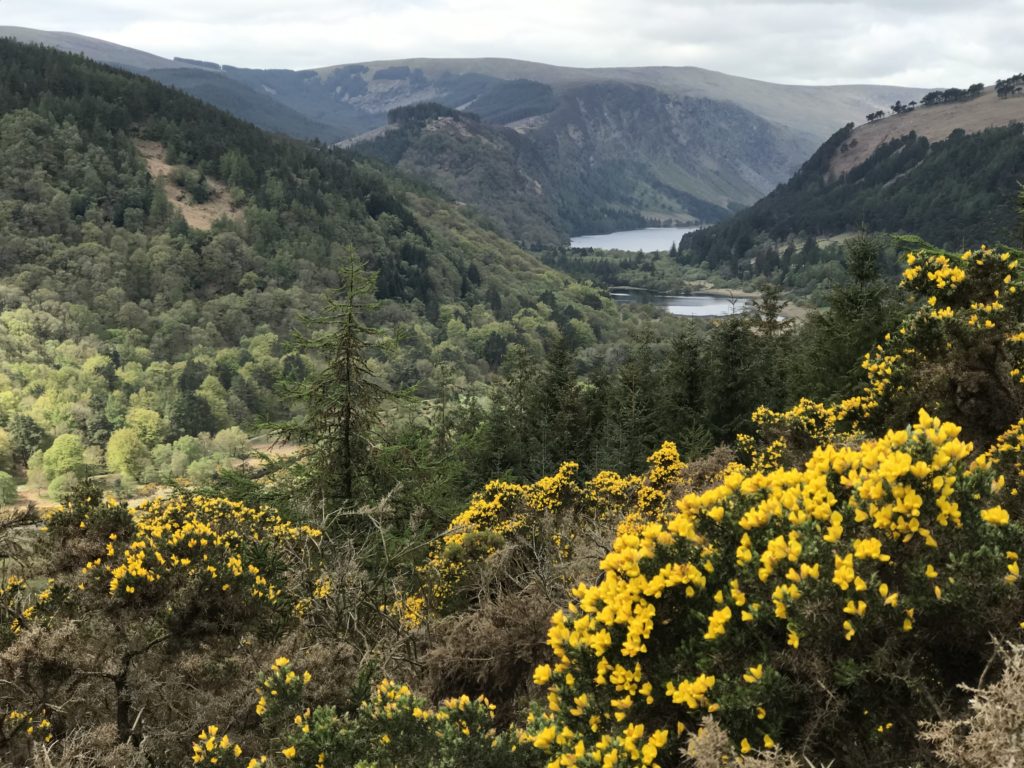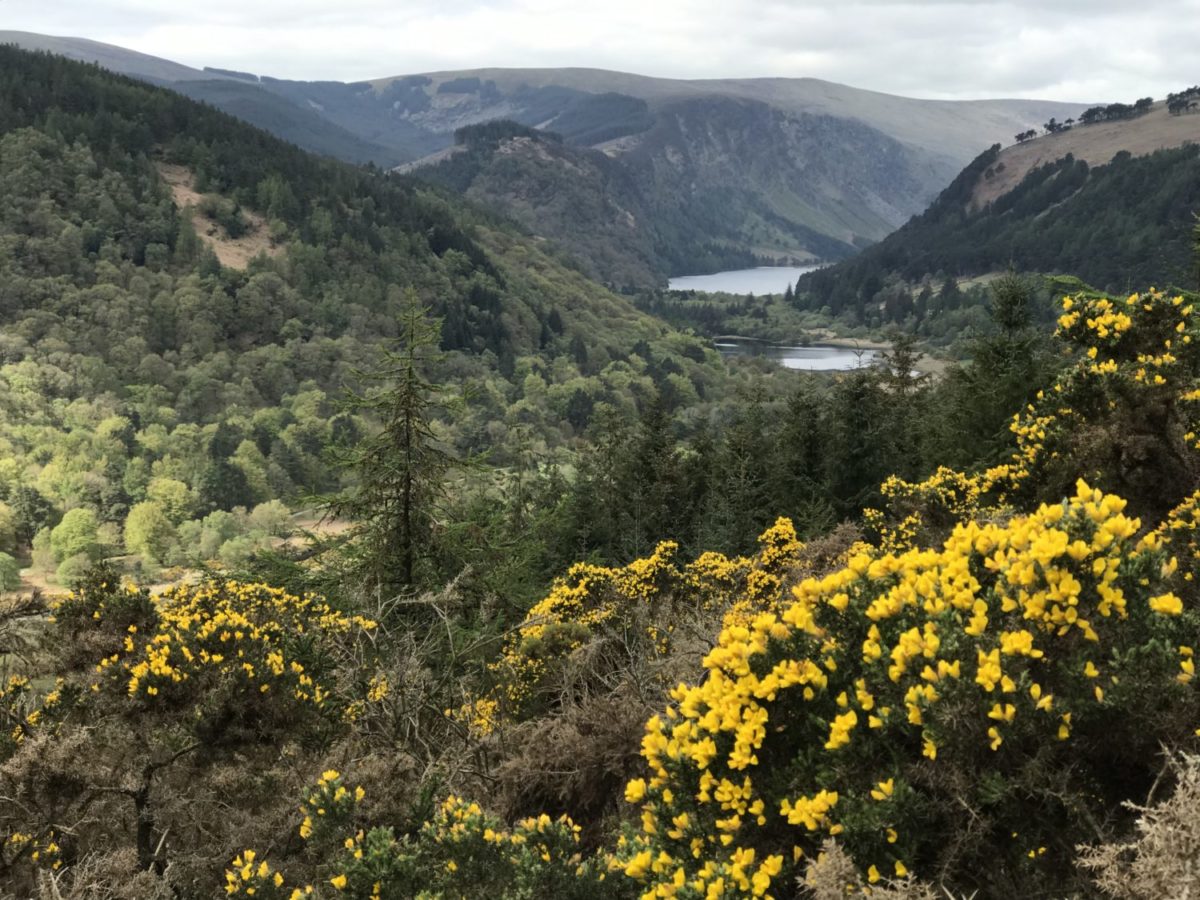 Day three was my last day and my easiest day on the trail. I hiked around 5 hours from Lough Dan south to Glendalough. The trail became much more populated as I came closer to the end; it was nice to see more folks getting out and experiencing the incredible wilderness that Ireland has to offer.
While I was sad to cut my trip short, I could not have asked for a better finale than Glendalough. The history nerd in me loved the 9th cenury monastic site. I can't think of anything I've seen anywhere in the world that was older and better preserved. The climb down towards the lakes afforded incredible views; vistas unique to those who put in the effort to climb through the Wicklow Way. There were even some woodland critters around to say hello!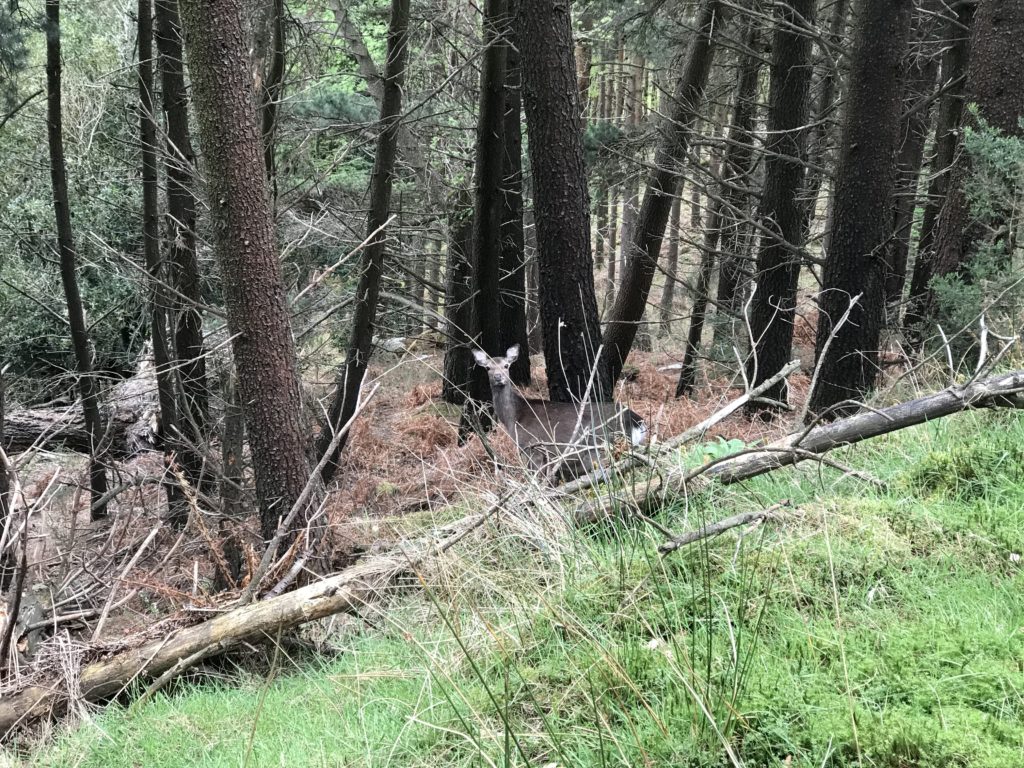 Now I am back home with a cup of tea and a full belly. My feet hurt, my shoulders are sore, and I have a ton of laundry to do. I also cannot recommend this experience enough. It was surprisingly easy for me to organize this hike for myself and I felt very safe the entire way. If you love the outdoors and want to experience Ireland form on high, the Wicklow Way is a great way to do so!
-Dave Erbach