Thinking about studying abroad? These 8 photos will convince you to do your studies in Ireland.
The Emerald Isle is anything but camera shy. While you might think of rain and overcast skies when you initially think about Ireland, these photos will show you the many beautiful sides of the country that shine through when the sun is out. 
Tramore is a historically famous summer vacation spot for the Irish. With an expansive beach front for sunbathers and picnics, this is a perfect spot to spend the sunny summer days. Look for the "metal man" on the cliff to the right if you're curious about the history of the area. If you're interested in a walk, head towards the sand dunes to the left. 
2. Trinity College Dublin
An iconic spot for tourists when traveling to Dublin. Trinity College is located in the heart of the city centre, and lies within easy walking access to Grafton Street.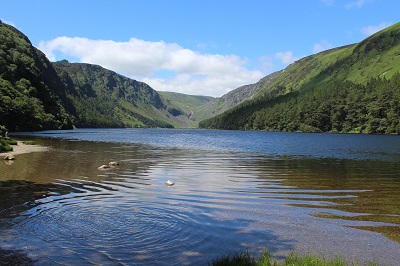 Glendalough is a popular destination for hikers and those looking to take photos which spark jealousy in friends and family back home. Grab a bus from Dublin and enjoy the day around the upper and lower lakes. 
Welcome to the oldest city in Ireland! Waterford is a great location for visiting museums such as Bishop's Palace pictured above on the Viking Triangle. Waterford is also home to the world famous Waterford Crystal factory, which allows tours throughout the year. 
Cork is Ireland's lively second city; a big foodie area with easy connections to the sea. Pictured here is the famous St. Fin Barre's Cathedral.
6. Wicklow Mountains National Park
Have you ever seen P.S. I Love You? If you have, you've seen snippets of the Wicklow Mountains National Park. This is a beautiful area to go for walks and enjoy the Irish scenery. 
The Grand Canal is 82 miles of waterway stretching from Dublin to the River Shannon. It passes through towns such as Naas, home of the Learn International Office. The canal is lined with trees that exude color during the fall season, creating breathtaking reflections on the water. 
Donegal is located in northwest Ireland. The surrounding area is famous for providing visitors with sweeping views of the Irish coastline.