I challenge you to find someone whose life hasn't been changed by COVID-19. Some experienced small changes, like working from home or cancelling a family vacation; some more devastating changes, like the loss of a loved one or the loss of a job, but everyone has experienced change in one way or another.
For me, I have been holding on tight as COVID-19 has taken me through unpredictable turns over the past couple of months.
Back in March I heard about Learn International and applied for the graduate internship position to work in the office in Naas. I was so excited about the opportunity as I have been contemplating changing careers and working in a position in international education. I thought this would be a perfect chance to get some experience and travel abroad. I have never been to Ireland and have always wanted a reason to visit.
Considering the circumstances, traveling to Ireland was no longer in the picture. I continued to communicate with Learn International and was informed about the opportunity to complete the internship remotely. I was nervous about how this might look, but decided to take a risk. After my first week I couldn't be happier with my decision to participate, despite not being able to go to Ireland.
Each morning I have a meeting with the Learn International staff, we update one another on projects we have been working on and other parts of our lives. It is very informative to hear about what each person is working on and how their efforts fit into the bigger vision of the company. I will be working on social media and marketing and can't believe how much I have learned in five short days.
One of my main concerns about completing this internship remotely was not being able to form relationships or learn about Irish culture. To my pleasant surprise I have been able to do both. Our conversation during a meeting yesterday digressed into talking about Irish names and their pronunciations. After giving my best shot at pronouncing several Irish names I think it might be a good thing that I have some time to practice before I come to Ireland in the future!
Although it's different and change is hard, I am happy that I decided to embrace the change instead of hide from it. Virtual Internships are new and just one more way that people's lives have been changed from COVID-19. Now, I challenge you to be optimistic about changes you have been faced within your lives.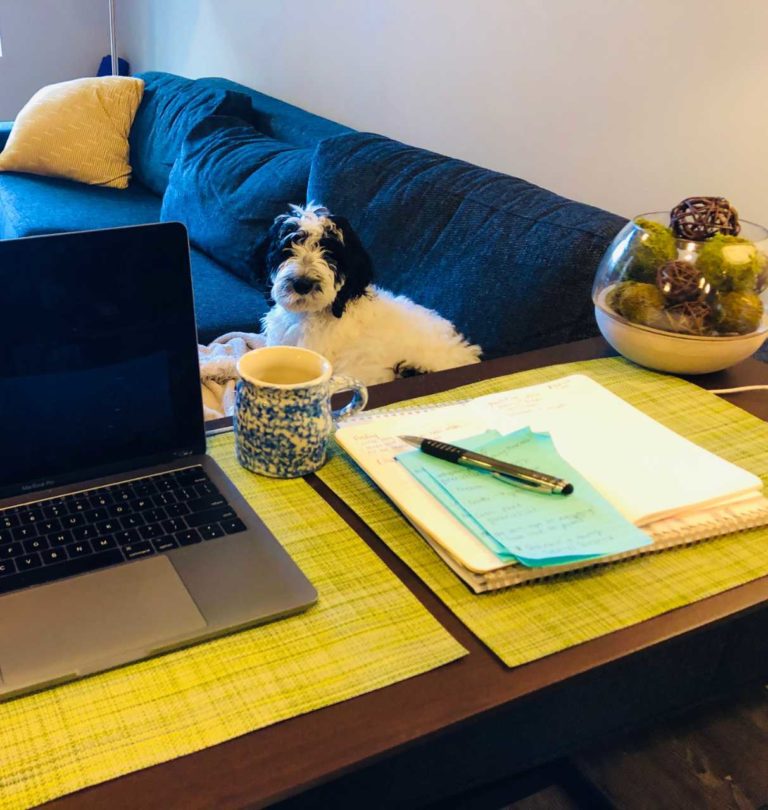 My WFH set up would not be complete without my work buddy, Reggie.