As my internship continues I get handed more and more projects. It always feels good getting more responsibility but you have to learn how to divide your time or designate days of the week for specific projects. Learning how to prioritize and organize is a key skill when working in an office setting or in any type of job really. Another skill I am learning here is how to make a grand cup of tea! 
Silverware and Fashion Icons
After a long work week all I wanted to do was sit on my butt and not do anything. Although being in Ireland makes that impossible, which is not a bad thing. On Saturday, my host family and I took a trip to Newbridge to do some shopping. Our first stop was Newbridge Silverware. This place was pretty cool because, like the name states, they had a lot of silverware. They also had silver jewelry and a whole section on Christmas Ornaments. I do not support anything Christmas before Thanksgiving so you can imagine my shock when I saw Christmas decorations in July.
This store seemed to have everything, up stairs they had a free fashion museum. Museum of Style Icons or MOSI. I decided why not and learned that Audrey Hepburn was a fashion icon, did not give it any thought beforehand. If I know anything, it is NOT fashion. But I would like to think after my visit there I know about 1% more than I did when I first went in. According to a quote on the wall, "Everyday is a Fashion Show and the World is your Runway." -Coco Chanel
A whole lot of Audrey Hepburn
Everything is Butter in Cork
On Sunday I finally got to make that trip to Cork I have been wanting to go on. I could not leave before eating fry for breakfast. Nothing is better than having 3 different types of meat on your plate with an egg, mushrooms and tomatoes first thing in the morning. We headed off around 10am and talked about many different topics on our 2 hour drive. Driving, Brexit, Irish License Plates, and the new Cats movie trailer to name a few. Once we finally got to Cork we went straight to the Butter Museum.
It was placed in this little court with many other shops that must have been closed. The roads were very narrow in this area so I could not help but get the vibe that I was in an amusement park or something of that sort. My host dad would be driving towards another car and last minute would scoot to the side so it would pass. Some real Fast and Furious stuff going on over here. We get into the Butter Museum and watch a 30min short film about the butter industry and I can say I am pretty much an expert at this point. All in all it was pretty interesting, got to see all the brands and how butter used to be preserved before the day of refrigeration. Did not get free samples though, would have loved a spoon full of butter.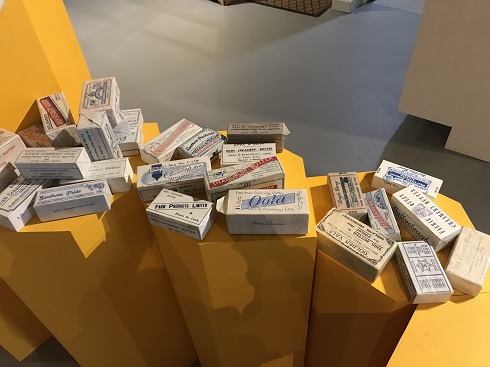 Don't worry they are just for show
Shopping Followed by Dessert
After the butter experience of a lifetime, it was time to eat and go shopping. We met up with my host dads sister, we ate lunch and then I went off to go buy souvenirs for my family that I neglected to get during my time in Dublin. I spent a good chunk of time in Carrolls deciding which fridge magnet or coaster each household would like the most. Finally making a decision I made my purchase and went on my way to other shops. I found the closest thing to Hobby Lobby and found something I have been looking for for about 2 years. A wax cotton string. Yes, I know you all must be at the edge of your seats but try to keep calm. I had a really unique necklace that broke 2 years ago and after searching I could not find the string and decided to forget about it. This just shows you will find the best things when you are not looking for them.
We headed home and got to hear all about the British Open 2019 on the radio. The excitement was in the air with an Irish man winning in Ireland. Once we got home and ate dinner, we celebrated the beginning of the week with a bowl full of trifle.
Ending the week learning about butter, hearing history be made over the radio, and finding anyway to keep this dessert theme going.