Now that I am on week 7 of being in Ireland it was important for me to find a routine and sticking with it. This is to keep me busy whenever I am not in the office or when I was not in classes back at DCUISS 2019. This is to also avoid feeling homesick, being able to make yourself feel at home will make the entire experience not only go by faster because you are staying busy but you will also find yourself having a better time. During my study abroad experience I did not have to build a routine because it was already built for us. Only thing I had to do was find things to do on my free time which is not hard while you are in Dublin. Now that I am in Naas working with the internship I know I will be busy from 9am-5:30pm Monday through Friday, the rest of the time is up to me. One thing I have been told is exercising is a good thing to get into when you are abroad. It is a great past time and a good way to release endorphins making you feel good. Luckily for me I have a close friend back home who does home workouts so finding the motivation to start working out myself wasn't too far out of reach.
As many of my family and friends know, whenever you ask "What is José into?" the first thing to come into mind is Marvel. During my time in Ireland the next MCU Spider-man movie released. And I was not going to let me being in a different country keep me from watching this movie. Thankfully my host family knows how important these movies are and we went to go see it the week after it came out so we could get Wednesday movie deals. €6.00 per ticket instead of €10.00. It was a steal. After watching this masterpiece of a film, I was able to collect a small poster at the exit, now I have to figure how to get it home without wrinkling it. This movie is not the only spider I get to experience over here, while in the sitting room at my host families house there was a huge Daddy Long Legs on the wall. My host dad, after a battle for the ages, captured it with a tissue paper. Never saw the spider again. At the end of the week I was graced with the presences of more horses on my walk back home next to the canal. Instead of seeing the same 2 horses as last week, a 3rd one joined them. Unfortunately, they are always on the other side of the canal so I can never pet them.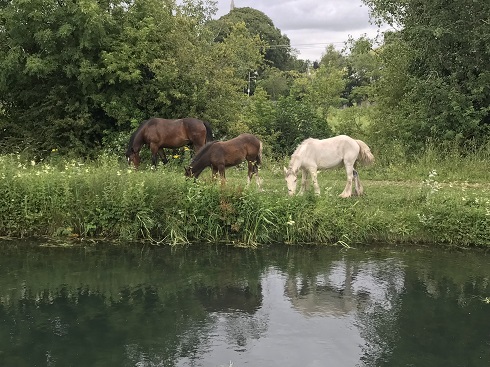 My 3 horse friends doing their thing
On Saturday my host dad took me to go see a clash of titans in a friendly football match in Dublin. Chelsea v. St. Patrick's. Chelsea is a professional English football team and St. Patrick's is a semi-professional football club team based here in Dublin. To get to the stadium we had to take the Luas, it was a good time seeing how we were able to get seats before it got packed with fans. When getting to the stadium there were way more Chelsea fans than St. Patrick's, but when you think about it a professional team will always have a bigger fan base than semi-professional. We got to see the big names on the team which was cool because everyone thought they would just be using players that never play during regular matches. By the end of the day Chelsea kicked 6 balls over the fence and 4 balls in the goal. Making the final score 4-0.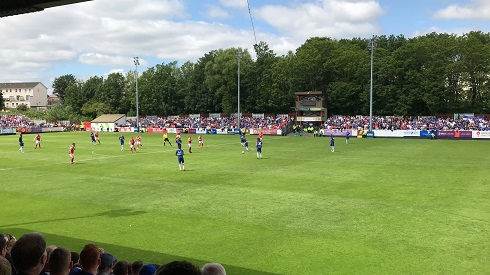 Sunday my host family took me to Waterford city to meet some of the family. We first went to visit my host mom's mom. She was a very kind woman and had a lot of questions about where I am from, my favorite part of Ireland, and if her daughter is feeding me well. She showed me around her home and told me about how she has lived in her home for over 40 years. We stayed for about an hour and chatted until we left to go visit my host mom's sister. You know you made a good impression when you get a hug as you walk out of someones home.
After leaving we went straight to her sisters house where I was on for a very relaxing end of my weekend. Everyone was very kind and the home was huge. Her sisters husband is a civil engineer and designed the house, the back yard, and many of the life size wood carvings around the house. There was a wood craved lion, a few eagles, and a giant bench to name a few things he made. The view from their back patio has been one of the best views I have seen my entire time out here. When we first arrived I was greeted with the first dog I have been able to play with in weeks. His name was Max and just because he had 3 legs, this didn't stop him from giving me all the dog kisses and hugs. When I started petting him, I was not allowed to stop until he was satisfied.
We had dinner around 1pm. I first I thought it was really early for dinner but than I saw the pile of food they served me and knew I was going to need the rest of the day to digest everything. We had mashed potatoes, peas, carrots, stuffing, ham, breaded potatoes, Yorkshire pudding, cabbage, and cauliflower covered in gravy. It is safe to say I did not eat all of it but it was definitely a great meal. Of course that was not the only food I would be eating today. They had 5 different desserts and they thought instead of me choosing they would give me a dessert platter to try everything. I was not opposed to this but I did not know that each slice would be the same size as if I was only eating one thing. I truly feel I am begin fattened up on purpose. After eating a majority of the dessert we spent the rest of the day watching hurling on the television and chatting outside in the sun.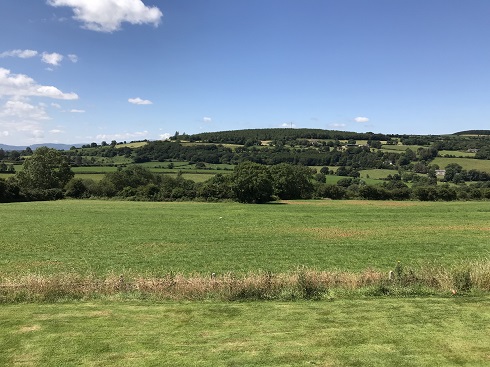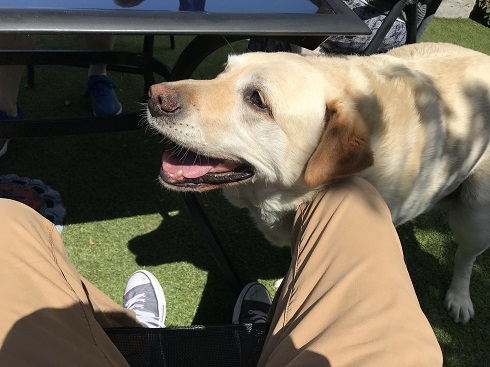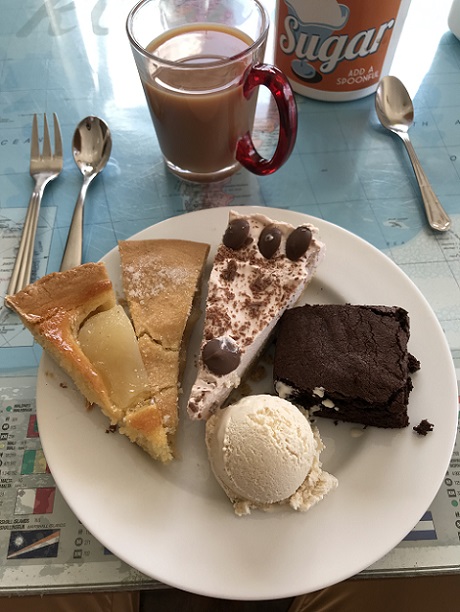 Finished the week with seeing hurling players get to know each other, talking on the phone into the late hours with a close friend back in the states, and eating too much dessert… again.