Supporting the arts is considered so important in Irish society that in 1969 the government exempted artists from paying tax on income from creative works.
While this was capped in the last few years (mostly an unsuccessful effort to get U2 to pay tax), it's left a legacy of Irish painters, poets, sculptors and musicians emerging to share their work, and creatives coming to live in Ireland from all over the world.
The photography scene is coming into its own in Ireland, with a national Gallery of Photography, several dedicated photography festivals, and artists such as Richard Mosse winning prestigious awards and critical acclaim. As Angel Luis Gonzalez Fernandez, director of the annual Photo Ireland festival, told TIME magazine recently,
"there is definitely a massive, well-informed arts scene here in terms of artists and curators… and now there is a more dynamic [photography] scene".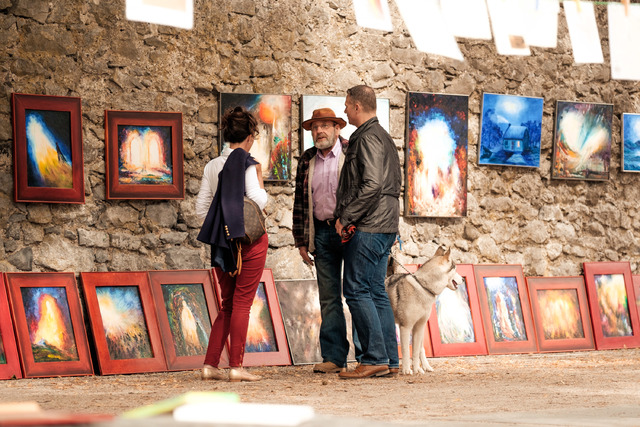 Some interns will be placed right alongside a photographer, designer or artist, just like Sydnie and Kathryn.
With the help of Learn International my visit to Dublin could not have been better. They assisted me immediately with any concern I had and were eager to hear about all of my experiences anytime I did something new. I shared many stories about my internship and how great my colleagues were. My internship allowed me to travel to different wedding destinations and see the historic venues Ireland had to offer. My advisor from Learn International was very personal with the way she assisted and interacted with me. I truly feel I had a friend by my side in times of need or just for lunch!

Speaking of food, Ireland wasn't short of amazing places to eat and enjoy night life. I'll never forget the evenings I spent watching performers dancing in pubs, streets and restaurants just to entertain us! The way the performers interacted with one another and the crowd really made for a genuine and friendly vibe in Ireland. I think about the six weeks I spent in Ireland almost everyday.

It has changed the aspirations I have in life and made my desires more meaningful. It is remarkable how big of an impact this country and program has had on me. I would not change it for a thing.
Sydnie Roper
New Mexico State University - Photography Internship
"I loved my experience interning abroad. The internship was customized specifically to my interests and professional goals. I was able to work on projects which taught me a great deal about the field and I was able to see them start to finish.

My colleagues were also a great group of people and really helpful with my adjustment to interning and living in a new country. On the weekends, I was able to explore most of Ireland and even other destinations in Europe like London. I learned so much more about my host-country and myself, than I ever thought I would. I will always remember my journey and want to tell others, so they can experience life abroad.

I also lived with a host family, within walking distance to my placement, which was a unique and enjoyable experience. I was able to be immersed in Irish culture and the town where I was living. I would definitely recommend interning through Learn International, the staff are passionate and friendly. They provide affordable study abroad programs that allow more students the possibility to study abroad like myself. It was a valuable learning experience for me. It's a once in the lifetime experience!"
Kathryn
University of North Carolina Wilmington, USA - Videography and Photography Intern