Staff Corner: From the remote desk of Cara Simon
Current location: New York, USA
A small act of kindness goes a long way. No matter what the current events, doing something nice for someone – or a group of someones – always makes the world a little sweeter.
Since being a remote worker, I've decided to consciously increase my efforts of small acts of kindness, almost like a new year's resolution and probably something I should have been doing anyway – but no time like the present. I have found that something which may appear to be small or of little effort to me, can mean a GINORMOUS amount to someone else. No act is too small. EVER.
A few weeks ago near my "isolation birthday", I had been feeling a little helpless with the current COVID-19 crisis, and outside of staying home and self-isolating to prevent the spread, I wanted to do something to contribute, support or help.
On one of my "runs" I came up with an idea to do something for a group of someones. After a quick Google search, I decided to contact local nursing homes to see if they would accept "self-care" kits for their support staff and essential workers. I had no idea if any place I rang would be open to this idea or just think I'm a weirdo (probably the latter – ha!), considering the potential risks involved. However, one of the first homes I rang, accepted. I was provided with instructions on how to deliver and be cautious, but the overall feeling was that it was very much appreciated.
Here are the self-care kits my Mom and I and delivered. I have no idea if these self-care kits were used or binned, but doing something for someone felt better than doing nothing for no one.
Each kit included a candle, a mug with hot cocoa packets, granola bars, a journal with a pen and bath salts.
I encourage you to do something for someone or a group of someones. It doesn't have to be elaborate, just something to spread the kindness. It's all about the little things…
Here's a little list of ideas that I've heard of others doing, which might inspire you:
Call or video chat someone you haven't spoken to in a while. Sometimes a chat goes further than you know.
Are you crafty? You could knit or crochet something for someone. I'm currently attempting this… and have decided it's the thought that counts, not the appearance of the scarf…
Do you know anyone living alone and might be especially isolated? If so, you could reach out to them and give them a little extra love.
Leave a thank you message/note for your local mail person. They are working hard to keep the post system running.

This could be applied to anyone in the essential worker category that we may not necessarily think of: ie Rubbish collectors, pharmacy staff, grocery clerks, gas station attendants, etc.

Do a fundraiser to provide support to a cause like medical supplies. I had a friend in the UK do this and raised £2,000 sterling for medical supplies and food to be delivered to a local hospital and essential workers.
Connect with a local charity or nursing home and help from afar. Some places need people to chat with the residents since they cannot have any outside visitors.
Write a letter to a friend, family member or someone for a little hello because who doesn't love mail?! This is one of my favorites, it doesn't cost much but a little time and it puts a smile on someone's face.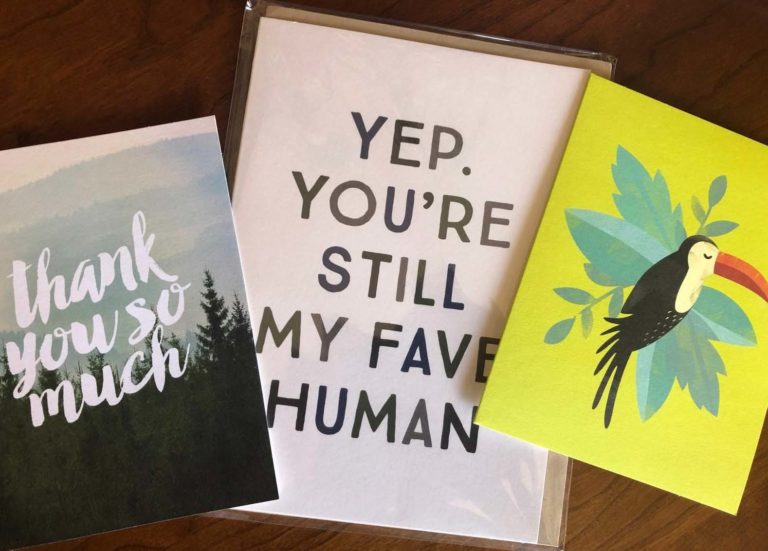 Send a card via snail mail to brighten someone's day and support the postal system.
If you are going grocery shopping or even out to the pharmacy or wherever, call a neighbor, a family member or a friend to see if they need anything.
Say hello to a stranger.
On my walks and runs around the neighborhood, it's blowing my mind on how everyone is smiling and saying hi as you pass – this is not necessarily the norm here, but lately it is and I like it. It's amazing what a hello or a smile or both can do to brighten the gloomiest of days.
Start a fitness group to keep people engaged and exercising while at home.

Learn International has one with some friends and partners – please let me know if you'd like to join our group. We are doing a 12-week HIIT challenge (freeon YouTube) and all are welcome. It's actually really fun and you get to meet new people.

Pay it forward – you could pay for someone's order, whether it's a coffee (drive throughs are still open here in the USA) or takeaway food order, or leave money towards petrol at a gas station… There are lots of ways to pay it forward and ways that can
support a local restaurant to help keep small businesses open.
These are just a few ideas! If you have any ideas or experiences to share, I'd love to hear from you. Remember a little can go a very long way…
I encourage you to do something for someone or a group of someones. It doesn't have to be elaborate, just something to spread the kindness. It's all about the little things…
If you want to talk to me,  please email me today to set up a call.