If you haven't heard by now, Corona Virus (COVID-19) has everyone on high alert. According to the CDC, COVID-19 is an infectious disease caused by a new virus. At this time, there are no specific vaccines or treatments. The virus is spreading and has become a global pandemic. The World Health Organisation has listed prevention methods to slow virus transmission. It is recommended to wash your hands regularly, avoid touching your face, and cover your mouth and nose when sneezing. Ireland's Prime Minister called on St. Patrick's Day for the public's help in making social distancing workable. In order to implement social distancing at its best, stores, bars, and restaurants have closed their doors, or follow a two person at a time capacity. Many citizens are working from home.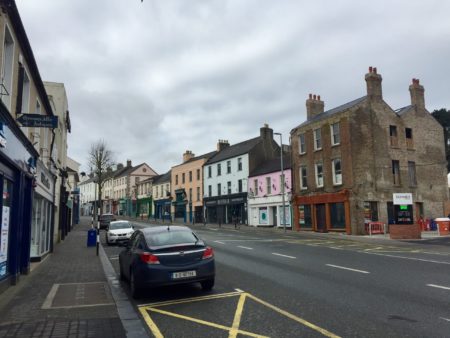 This photo is from March 17th, 2020, when the streets were quiet on the morning of St. Patrick's Day. It is a working holiday in Ireland and most are likely sleeping in. As I walked through Naas, I noticed most businesses and all pubs are abiding by governments order to close for two weeks to contain the COVID-19 outbreak. With public gathering locations being closed, this will ideally encourage people to practice social distancing. 
                   Signs around Naas, in the windows of businesses and inside grocery stores. 
Social distancing has put a damper on my plans to explore Ireland. However, I have created other ways to continue to learn about Irish culture, even though museums and other culture attractions are closed for the time being. Happily, I am still able to make it outside for walks during daffodil season. Below are some things I have been doing to keep travel passion alive while I am social distancing in a new country. 
How to explore a new country while social distancing:
Read an Irish Book

The Country Girls by Edna O'Brien. It's a story about two friends in the 1950s of Ireland. The book was banned soon after publishing, due to the Censorship of Publications Act 1946. I am only a couple chapters in. 

Watch an Irish Show or Movie

Derry Girls (technically a British sitcom). A cute comedy set in Derry, Northern Ireland about five teenagers in a Catholic school in the 1990s. The show forced me to reminisce about my days in Catholic school and my former love of 90s boy bands. 
1916 The Irish Rebellion. Narrated by Liam Neeson. An interesting documentary series about the events in Dublin during Easter Week 1916. 

Cook Irish recipes

Irish Soda Bread. Check out my previous blog post about an easy recipe. 
Corned beef and veggies, hold the cabbage. I am not a cabbage fan so I made veggies with the corned beef instead. Look for this blog post soon.
Best of luck social distancing! Remember, this is only temporary and right now it's important to stay safe and healthy.