A great part of staying in Lille for ESP 1 and ESP 2 is that there is a several day break in between the semesters. This gives you opportunities to travel further than the trips provided by Université Catholique, and the generally inexpensive transportation in Europe helps out significantly. For my five days, I traveled with my friend to Barcelona, Spain, and Interlaken, Switzerland. 
We first took a train to Paris Charles de Galle and then a flight to Barcelona. We got there late at night, so we went directly to our hostel. Our room had eight beds, and most of our roommates actually seemed to be around our age. It was cool to meet them and get recommendations of what to see.
During our first full day in the city, we walked to La Sagrada Familia, an awesome and huge basilica with numerous intricate details and architectural designs. When first seeing this building, I immediately wondered how a structure like this could have even been made with the lack of tech present during the time period. This was by far my favorite structure in Barcelona.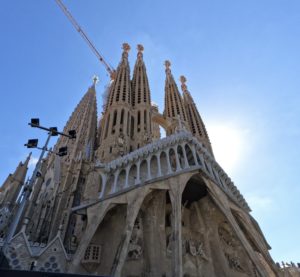 Another highlight of the city was Park Güell, an area with more cool architecture and artwork by Spanish architect Antoni Gaudí. The park contained tunnels and bridges made from jagged stone, and houses and buildings with complex mosaic patterns. This location was a long walk up a hill from La Sagrada Familia, so the view of the city was extremely cool.
We also walked down to La Rambla and the beach. La Rambla is the primary touristy road of the city, but for several good reasons. One is that there are multiple historical structures on the street, including Casa Míla and Casa Battló. These are both structures with artistic designs, and you can pay to enter the museums inside them as well, but they were cool just to look at from the street. Additionally, after passing La Plaça Catalunya, there is the famous street market La Boquería. Filled with vendors selling all types of food that is relatively cheap to the U.S., it was difficult to decide what I actually wanted from there. I ended up eating a burrito smothered with sauces, vegetables, falafel, and some paella, and that was probably my favorite meal on the entire trip.
After Barcelona, we took a flight to Geneva and then a train to Interlaken. Being in the Swiss Alps, our goal there was to simply hike every day. One notable hike we did began in Grindelwald, a town right next to Interlaken, and ended at First, the top of a ski resort 3,600 feet up. This hike was very steep, but the views of the neighboring snow capped mountains were the best I'd ever seen. We also passed by free-roaming cows and people that were speeding down the mountain on tricycles. With the paved trail being mostly unprotected by guide rails, there is no way this would have been allowed in the U.S. At the peak, we took pictures and went inside the First restaurant, where we could dry off before going back down.
Our final hike of the trip was on the Hardergrat trail, which is mostly on a ridge 4,000 feet above Interlaken. With the Caribbean blue Lake Brienz on one side of the ridge and the peak of Augstmatthorn in the clouds, this hike also arguably had the best views of the trip. The path up to the ridge contained many tight switchbacks and was even steeper than the Grindelwald hike, but it was much more manageable after the trail leveled off. After we cleared the woods and could see the lake, we stopped several times just to look at every crazy view the trail offered. I definitely stumbled more on this part of the trail because I was looking off the ridge and not where I was walking.
Overall, the days in between the semesters were a great time to see other parts of Europe, and I'm glad I took the opportunity to encounter culture and geography that I hadn't previously experienced.